If you want to rebel, rebel from inside the system. That's much more powerful than rebelling outside the system
.
-from Legend by Marie Lu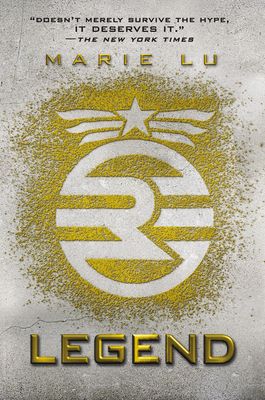 Legend
introduces us to two protagonists from different sides of the tracks: wealthy and prodigiously intelligent June and the government's most wanted low-class criminal, Day. When Day is framed for June's brother's murder, June vows to track him down to avenge her brother's death. But amidst uncovering Day, she also uncovers the darker side of the Republic, a government she has sworn her allegiance to her whole life. June must decide whether or not to conform or shed her entire value system.
Okay, so don't hate me but I did not adore this book as much as I feel like I was supposed to. (Blogger note: Please don't just read this paragraph and skip the book because I do say nice things in later paragraphs!) I'm going to be honest and say that I was a little overwhelmed with life when I began reading, so perhaps I didn't give it a fair chance with a clear mind/emotions; but I also want to argue that a good book should wipe out reality. I really loved the bones of this story, I just wasn't knocked over by its execution. The world-building didn't feel to extraordinary and while the prose was fine, it wasn't all that impressive. I just don't think I got the "feels" that I was supposed to when shocking things happened which either makes me heartless or simply detached from the characters (I'm going with the latter).
All that said, I did enjoy the characterization, even if I didn't feel especially attached to June or Day. I know that sounds strange, but I appreciated how different both characters are and yet how similar they become as the story progresses. On the exterior they seem like foils: June is rich, Day is poor; June got a perfect score during her Trial, Day failed his Trial; June is a government official, Day is a wanted criminal. But the more readers learn about the two, the more similarities are revealed.
While I didn't connect with this story as much as I wanted, I will say that this book sets a great foundation for the rest of this series. I am writing this review after I've started (and almost finished) reading
Prodigy,
the second book in the series. I can very adamantly say that the story does pick up speed and I am very much enjoying the
Legend
series overall! But to get to
Prodigy
, you need to read
Legend
, and while it's not a bad book by any means, it just doesn't pack the punch I expected.
Bottom Line
: This was a good book, but not my favorite series starter. However, I highly recommend for the series overall, especially if you love dystopian (
The Hunger Games, Divergent
, etc). Great for a book club for the analysis factor, especially regarding varied moral codes/opinions.
4/5 Stars
.