You don't mention death when it's hovering near someone you love. You don't want to attract the reaper's attention.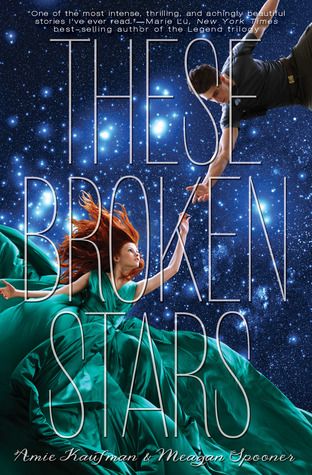 Title
:These Broken Stars
Author: Amie Kaufman and Meagan Spooner
Genre:YA Fantasy
Rating: B+
Recommended For: Fans of space adventure romance
Source: Own hardback copy
One-sentence review: This futuristic novel set in space starts as a space ship version of Titanic, progresses to a very lengthy survival story of a guy and girl full of tons of sexual tension on an unknown planet.
These Broken Stars
is a novel set in space written by two authors, Amie Kaufman and Meagan Spooner. Sixteen-year old Lilac is the galaxy's sweetheart, the daughter of the most wealthy and power space engineer who built the "indestructable" Icarus space ship. On the ship, Lilac meets Tarver, a young major in the galaxy's military who is well known for an act of valor. When the indestructible ship is knocked out of orbit and Lilac and Tarver find themselves in an escape pod together, they must use each others skills to survive and hope to find a way home to their families.
I had a love-hate relationship with this book through and through. I wanted to read it because the authors were having an event and I wanted to go meet them, but when I first started the book it was really difficult for me to get into it. I think I credit this to this book being co-authored. There are just too many words and not enough explanation in those words. I found myself really having difficulty understanding Lilac and Tarver's world, there was little structure and readers are just plunged in. This wouldn't be so bad if I didn't feel like the story moved so slowly to begin with.
That said, I'm glad I finished the book anyway because once Lilac and Tarver find themselves on an unknown planet, things pick up reasonably well and the book becomes a nail-biter at times. I think the romance was pretty cheesy because both characters dislike each other soooo much which makes it soooo obvious how things turn out, but it worked out. I ended up liking the characters more than I expected and really cared about how things turned out for them, which encouraged me to keep reading.
One factor that I'm undecided about is that absolutely anything can happen in this book. This is the future, these characters are on uncharted territory with any possibility of lifeforms or unknown territory, which made the story very fascinating with many opportunities for things to go wrong. However, sometimes I felt the authors pushed this too far and I lost my trust in them (if you read this book you'll know what I mean and you'll have to tell me how you feel!).
It may sound like I had more negative things to say about this book than positive, but I think it's the perfect example of how someone's favorite book is someone else's least favorite book. While I didn't care for the writing style and high fantasy, I did love the adventure and overall story. I think this book is so different that there could be debates on it being the best or worst book. Either way, I found that it was worth the read and I am excited to read the new companion,
This Shattered World
! It also didn't hurt that the authors were so nice when I met them. :) Did I mention I got to meet Marie Lu, too?!

Have you read These Broken Stars? What did you think?