Sometimes I think the loneliness inside me is going to explode through my skin and sometimes I'm not sure if crying or screaming or laughing through the hysteria will solve anything at all. Sometimes I'm so desperate to touch to be touched to
feel
that I'm almost certain I'm going to fall off a cliff in an alternate universe where no one will ever be able to find me.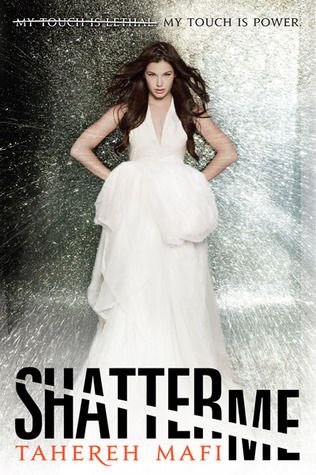 How has it taken me so long to find this beautiful series?
I must have repeated that question to myself a hundred times since I began devouring this first novel in the
Shatter Me
trilogy by Tahereh Mafi. On Monday, Mafi will be at one of my (semi-)local Barnes and Noble stores promoting the final installment,
Ignite Me
. I decided to give this book a read to see if I might want to go to her author event and I am so happy that I did!
This dystopian novel is narrated by 17-year old Juliette, a girl with a very strange ability of injuring people with skin-to-skin contact. After accidentally killing a child with her power, Juliette is locked away in an asylum where we find her after 264 days isolated from the outside world. When the government decides to utilize Juliette's strange gift to reinforce their power, Juliette must learn to cope with how her touch can change her life and her future.
First of all, I didn't realize how sick I am of dystopian caste systems until
Shatter Me
broke the mold. Thank you, Tahereh Mafi, for not creating any districts or factions or groups, yet successfully creating a dystopia. In Juliette's futuristic version of the world, Earth has been horribly abused and is left with limited resources to sustain life. In a veiled attempt to rebuild the standard of living, a new government, The Reestablishment, comes to power and things only get worse. I found it incredibly refreshing not to have to figure much out about the world from where Juliette comes. This book breaks the dystopian mold and executes a compelling story without much set-up.
The most enjoyable part of this book (and the series as a whole) is Juliette's narrative voice; Mafi's poetic prose and use of language is actually stunning at times. For example, instead of stating that time went by, Mafi writes, "1320 seconds walk into the room before he does." While it took some getting used to, Juliette does not use standard modes of punctuation, she constantly repeats words and edits herself by striking out sentences from her sub-conscience. Once I was accustomed to reading this style, Juliette's character comes to life and the narrative gives an authentic glimpse into this battered girl's stream-of-conscience. The confused, disjointed, poetic prose reveals who Juliette truly is.
Through Juliette's history and circumstances, questions of identity, belonging and isolation are considered. Can Juliette function in society? To what degree is she comfortable utilizing her power for a destructive government, if any? Can she reconcile who she is with who the government wants her to be? This book deconstructs what it is for Juliette to be a physical monster as a base for the rest of the series.
Finally, the pacing of this story is truly perfect. Readers are led through three phases of Juliette's existence which are full of action that keeps the story moving forward all the time. Every character introduced is enjoyable and the romantic element is very well done. For fear of giving anything away, I'm not going to comment any further on that, but just trust me! ;)
Bottom Line
: If you love dystopian books, this needs to be next on your list!
5/5 Hearts
!
And if you're on Instagram and want to follow a great Shatter Me fan group, check out
ShatterMeOfficial
!