I knew I would have to relearn how to listen to music, and that some of the music we'd loved together I'd never be able to hear again, Every time I started to cry, I remembered how Renee used to say real life was a bad country song, except bad country songs are believable and real life isn't.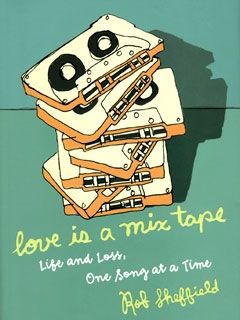 Rolling Stone
, going to concerts, and loving to read. So how is it that I have overlooked this talented writer for so long? My friend Frances told me that I actually did have a discussion with her back in 2004 about Sheffield's positive review of Gwen Stefani's
Love Angel Music Baby
, but why I didn't continue to love, support and worship his writing is a mystery!
Frances wanted to go to Rob Sheffield's reading at
Book Soup
in July for his new book,
Turn Around Bright Eyes: The Rituals of Love and Karaoke
. Since I'm always game for an adventure in LA, especially one that's book related, I joined her. The reading was great, Rob was incredibly funny and down to earth, and we even got to meet him! Can you believe he's almost as old as my parents because I can't!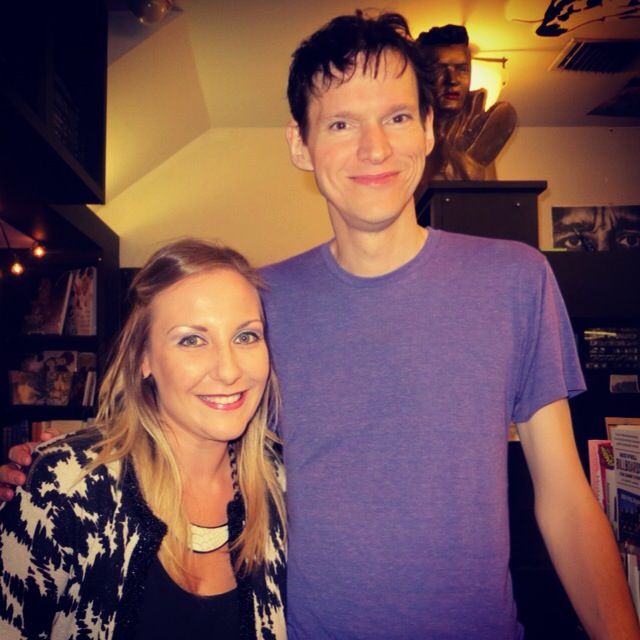 You can't go to a book reading and not buy a book, but I was encouraged to start at the beginning, with Rob's first book,
Love is a Mix Tape: Life and Loss One Song at a Time
. This book is basically a memorial to Rob's first wife, Renee, who died unexpectedly of a pulmonary embolism in 1997. Through mix tapes created by both Rob, Renee and friends, Sheffield chronicles the years leading up to meeting Renee, their first years of marriage and his experience of grief after her death.
I'm not always a fan of non-fiction books; I'm very hit or miss with memoirs and autobiographies, so I was worried that this would be a slow read for me. However, Sheffield's voice and the flow of his prose are so fluid and articulate that it's rather, well... musical! Each chapter is titled after a mix tape and the song list for each respective mix tape is listed as well. Each mix brings back memories for Sheffield that he expounds upon those memories as he tells a story that most people can relate to in some way.
The first few chapters I loved because I was learning how much I enjoyed reading this book. Then the reader is introduced to Renee, and knowing how her story ultimately ends, I drank in every word about her. But the part of this book that shot it into 5-Star-Mode was the way Sheffield is able to articulate his grief. I cannot even imagine writing this, much less living through it. Sheffield is transparent and human, two qualities that are especially impressive given the vulnerable nature of grief. I laughed, I cried, I felt everything a great book is supposed to make me feel. I truly enjoyed reading Rob's story and it made me appreciate him not only as a writer, but as a human being.
One of my favorite things Sheffield does in this book is draw parallels to music and his life using the emotional connection and experience of music. I especially loved the chapter revolving around Kurt Cobain's death. Sheffield relates to Cobain's stress over the responsibilities of being a husband and father and examines the idea of death amongst spouses. While I've never paid particular attention to his music, I had never looked at Kurt Cobain this way, had never recognized his stress over his responsibilities. I love how Sheffield identified with this and expressed himself in relation to his wife's death.
The only part of this book that is frustrating is that while I love music, I don't have nearly as vast of a knowledge as Sheffield, so many of his references were completely lost on me. I almost took a star away for this because his depth of knowledge has a way of isolating the reader to a degree. However, he praises Hanson multiple times, so I felt generous. ;) On the flip side, this book helped me pay better attention to music so that I could come to appreciate songs the way Rob and Renee did together. I highly recommend reading this when you have access to YouTube because I found myself listening to songs I wasn't familiar with to better connect with the story.
Now it's time to go buy Rob Sheffield's other books!! :)
Bottom Line
: If you love music, this is a must read!! If you love good memoirs/auto-biographies, I also highly recommend this one. I kind of think almost anyone between 20 and 50 would enjoy this book though, at least if you have any appreciation for popular music. 5/5 stars for a memoir.